Welcome to this website about
CO2 Air Source Heat Pump...

This website has been realized by 4 MSc students from the University of Strathclyde (Glasgow, Scotland) to present their work on CO2 air source Heat Pumps. This project is part of the Msc course "Renewable Energy System and the Environment" in the Engineering department of the University.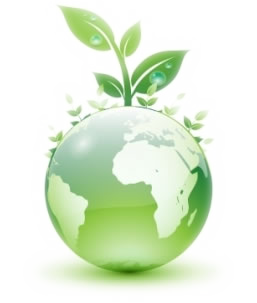 Household UK consumption is responsible for around 30% of all the UK carbon emissions and more than 80% of the energy is used for space heating and domestic hot water. The technologies and energy sources that are used must therefore be chosen carefully to reduce carbon emissions and assure a sustainable development for the country. With the important development of renewable electricity, heat pumps offer an interesting alternative to produce efficient and cleaner useful heat for space heating and domestic hot water.
What is this project about?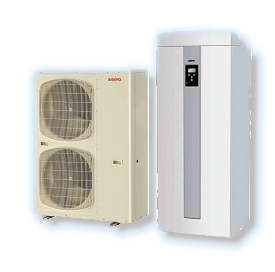 This project aim to assess the performances of CO2 air source Heat Pumps in the UK and their future potential. The carbon dioxide offers a good alternative to conventional refrigerant (HFCs) with a greenhouse effect around 1700 times lower. However as for all Heat Pumps, and maybe even more for CO2 Heat Pump, their performances is significantly influenced by the environment of operation: outside temperature, heating system, control of the Heat Pump...
As CO2 Heat Pumps start to be installed in the UK, customers are not always fully satisfied by their installations with respect to the performances announced by the manufacturers . One objective of the project is to study the real performances of these devices in operation and their potential for development in the context of the British environment (Climate, market, buildings design and characteristics).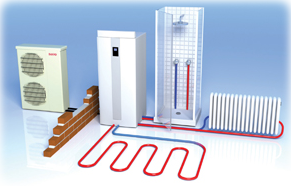 This projects focuses on one particular device: the Sanyo Eco Cute System which can provide domestic hot water and space heating. The different aspects of this system have been analyzed by modelling and monitoring. The modelling part enables us to understand the behaviour of the CO2 Heat pump operations with a static model of CO2 cycle and a partial development of a more simpler model for dynamic modelling. The monitoring part enables us to study the behaviour of the system in real operation. Some data has been collected from our own monitoring and the literature and also from a Finnish installation.
What are the outcomes of this project?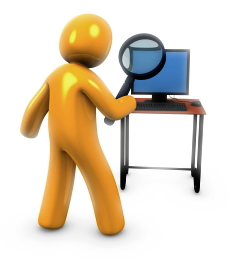 The monitoring data has been analysed in parallel with the realization of the models. Finally, different recommendations concerning the design and the installations of the Sanyo Eco Cute system have been listed in order to optimize the performances of the system. The details of our project are accessible with the navigation menu on the left.
More information on CO2 Heat Pumps?
If you are looking for more information on CO2 Heat Pump, we recommend you the following links: