| | |
| --- | --- |
| Project Outline | |


Aim Description Procedure Programme Outcome




Title


Marine Current Energy Baseload Supply Strategy for Scotland



Aim


To investigate the potential of marine current energy to meet a proportion of Scotland's baseload energy supply. Potential power output from geographically dispersed sites is to be determined and the phases of each site plotted against one another to determine if a solid baseload supply can be achieved.

back to top




Description


The potential for energy provision from marine current in Scotland is substantial – an availability of approximately 7.5 GW. Marine current technology, has the advantage over many other renewable technologies as it is predictable. However, although much of the necessary technology can be adapted from other well-developed areas, no grid-connected system has yet been implemented in the UK. Much research is currently being carried out, and it is anticipated that grid connected implementation will begin to roll out from 2006.
The team has analysed tidal behaviour in order to model potential power output from a number of high-current-velocity sites in Scotland. Combining strategies were then undertaken to determine the potential power output based upon a number of scenarios. The most promising strategy was selected and analysed in depth, illustrating the exciting potential of this abundant renewable resource for Scotland.

back to top




Procedure


A review of current research and and an examination of existing technology was undertaken, addressing factors such as environmental impact and planning requirements, grid connection, marine current resource availability, and economics and policy issues. Tidal data of approximately 30 sites in Scotland was obtained and modelled to assess the potential power output. The impact of variations in the tidal cycle was considered, and a number of high-current-velocity sites were selected for further scenario-based analysis. Each scenario was then carefully tested and evaluated in terms of economic implications and socio-economic benefits.

back to top




Programme


A 12 week programme was followed:
1 – 2 Definition of objectives, literature review.
3 – 4 Identify possible sites for combination and gather site data. Technology research.
5 – 6 Model sites and select the most promising. Analyse impact of variations in tidal cycle.
7 – 10 In depth scenario-based modelling and analysis of performance of combined-site output.
11 Website completion.
12 Final project presentation.
The approach to the project is shown below: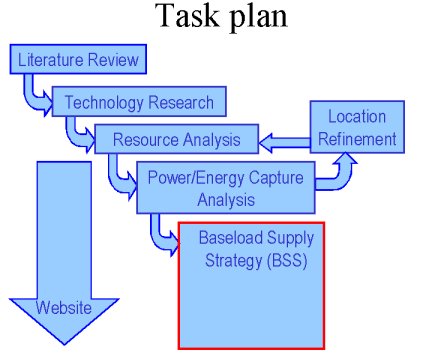 back to top




Outcome


A website on the potential of marine current technology in Scotland, featuring theoretical case studies to indicate the potential yield, and a recommended strategy for combining different sites to achieve optimal performance.


Please note, wherever possible on this site, we have provided a link on all images to the orignal source of the graphics.

back to top