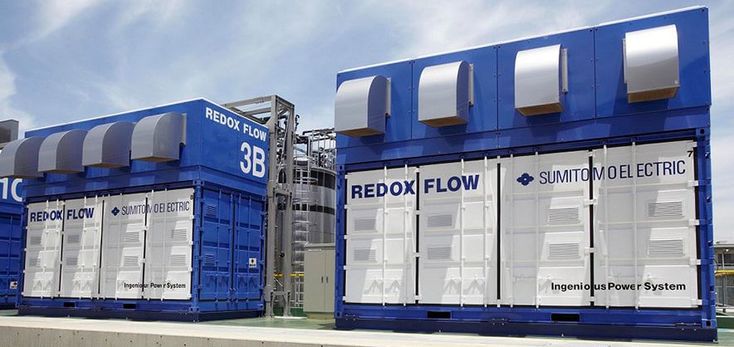 Energy storage is one of the most important factors in the incorporation of renewable energy sources and is essential for maintaining a reliable and strong electricity system. It can decrease power fluctuations, improve the flexibility of the electric system and empowers the dispatching of the energy produced by renewable energy sources [1].


​At this point of the project, as we were analysing future scenarios for the Ecovillage and after the implementation of the selected EV adoption rates on the electrical demand/generation profile of Findhorn, we decided to include the Redox Flow Battery that was recently installed but it is still not operational. It is a 25kW-50kWh battery and the purpose of its utilization for the different EV adoption scenarios, was to examine its effects on the Grid Imports and Surplus of the Ecovillage. With the help of Homer Pro, we ran simulations for the different EV adoption scenarios with the battery in order to compare the results and assess the impacts.
The table below illustrate us the percentages of the imports increase and the surplus decrease for the selected EV adoption scenarios.

As seen from the table above there are small changes in the proportions of the imports increase and the surplus decrease with the use of battery for each adoption rate. This is due to the fact that storage uses the energy surplus from wind generation in order to reduce the imports and increase the demand met by generation. At the same time though, it is observed that these changes are not significant because a 25kW-50kWh battery is a small scale battery comparing to the demand of Findhorn Ecovillage.

The pie charts above indicate us the effect of the Redox Flow Battery in the electricity demand/generation profile of the community in the 100% EV adoption scenario and give us a better view of the impacts of the battery. As it can be seen, the surplus is reduced by 1%, the demand met by generation increases by 1% and the imports remain the same.
From all these results, we concluded that the battery is insufficient and its impacts are not significant, so the scaling –up of storage or installation of additional generation
should be considered
.
---
References
[1]. A.G.Olabi. (2017). Renewable energy and energy storage systems.
Energy
, 1-6.
---