Final Proposal
The implementation of controlled charging for all the electric vehicles, which restricts charging between 5-10 pm, showed promise in mitigating the large increase in demand at peak times. ​


The utilisation of the inactive 25kW-50kWh Redox Flow Battery. Despite the fact that the battery does not have any significant impact on the electricity demand/generation profile of the Ecovillage, it has already been purchased, thus its operation is required.

​​

Installation of 300kW solar-PV farm is proposed. From the map below can be seen that there is a large area availabe for this installation, especially in Findhorn Dunes Trust area (purple coloured area on the Findgorn Hinterland Ownership Map).​ ​The total area required for this installation is 2000-3000 square metres (1kW needs 7 to 8 square metres of land) and the cost of its installation is £550,000-

£

600,000 [1],[2].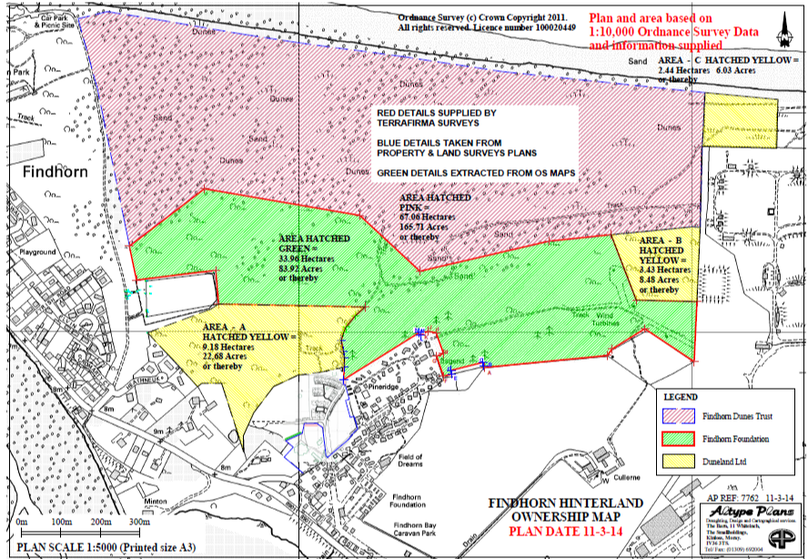 Findhorn Hinterland Ownership Map
Conclusion ​
Surplus, Grid Imports and Demand met by Generation percentages for controlled and uncontrolled charging scenarios are almost the same for each adoption rate.
Ecovillage is expected that it will be net importer at 50% EV adoption scenario. In the most extreme case of 100% of EV adoption, mitigation should be implemented to remain net exporter for this adoption rate.
Current generation is very wind-dependant, consequently has intermittencies on daily and annual basis. The energy output is not completely predictable, so non-dispatchable.
During the summer, a complimentary source of energy generation is required.
​Scaling-up the storage is not as effective as the installation of additional generation, in order to achieve relatively lower imports and higher surplus after the implementation of the different EV adoption rates.
The proposed 300 kW solar PV installation achieves 43% grid imports and increases surplus to 39%, at 100% EV adoption scenario.
​

Future Work
The project successfully achieved the initial project aim of studying the influence electric vehicle adoption would have on the Findhorn Ecovillage electrical supply/demand, including additional scope creep which allowed investigation into additional generation capacity to mitigate the effects of increased demand. The following have been identified by the team as recommended future work:
Detailed financial analysis considering the fluctuating grid import/export prices and lifetime costs of additional generation.
It is our recommendation that a more detailed charging strategy can be explored in conjunction with the financial analysis to determine the most cost-effective charging scenario.
The model only considered 3kW home charging, with multiple emerging chargers on the market [4], [5] and the time for total charge at around 12 hours, it can be debated that rapid/fast-charging is more feasible option for future EV owners [3]. We would recommend focusing on simulating the different type of chargers available and study the impact this would have on the power demand from the EV charging of the residents.
Another possible field of future study could be the investigation of vehicle-to-grid (V2G) connection impacts. This study should focus on electricity demand/supply and financial analysis of the new energy market.
The current project does not contain a detailed carbon footprint analysis regarding the consequences of EV adoption. This analysis, in order to be valid and detailed should be done in cooperation with Environmental Engineers.
For future work we recommend the investigation of larger renewable capacity installation increase surplus further in order to remain net exporter of electricity. This study should also contain CO2 reduction impacts and eventually greater imports reduction.
---
References
​[1]. Solar Panel Guide. (2018).
Solar Panel Costs & Pricing. Retrieved from
https://www.solarpanel.guide/solar-panel-costs/
[2].The Renewable Energy Hub UK. (2018).
Solar panels cost
. Retrieved from https://www.renewableenergyhub.co.uk/solar-panels/solar-panels-cost.html
​[3]. CADEX ELECTRONICS Inc. (2018).
BU-1004: Charging an Electric Vehicle
. Retrieved from http://batteryuniversity.com: http://batteryuniversity.com/learn/article/bu_1004_charging_an_electric_vehicle
[4]. Hale, M. (2018).
EV charging infrastructure - the fuel station of the future
. Retrieved from http://new.abb.com/uk: http://new.abb.com/uk/campaigns/ev-charging
[5]. NEXT GREEN CAR LTD. (2018).
GUIDE TO EV CHARGING
. Retrieved from www.zap-map.com: https://www.zap-map.com/charge-points/
---