The model described in the previous section represented the 91 residents who travelled to work on car, however, we can not assume that only this portion of residents own a car specifically as the Ecovillage is small and many car owners may opt to travel to work locally by foot or bicycle. To account for this ambiguous 123 residents who work from home, plus those who are retired, we had to estimate the annual distance driven by car from the Ecovillage residents. This was achieved by investigated a 2015 carbon assessment of the Findhorn Ecovillage [1]. The new model worked in a similar way to the previous, however working days was no longer considered. The new process is shown below.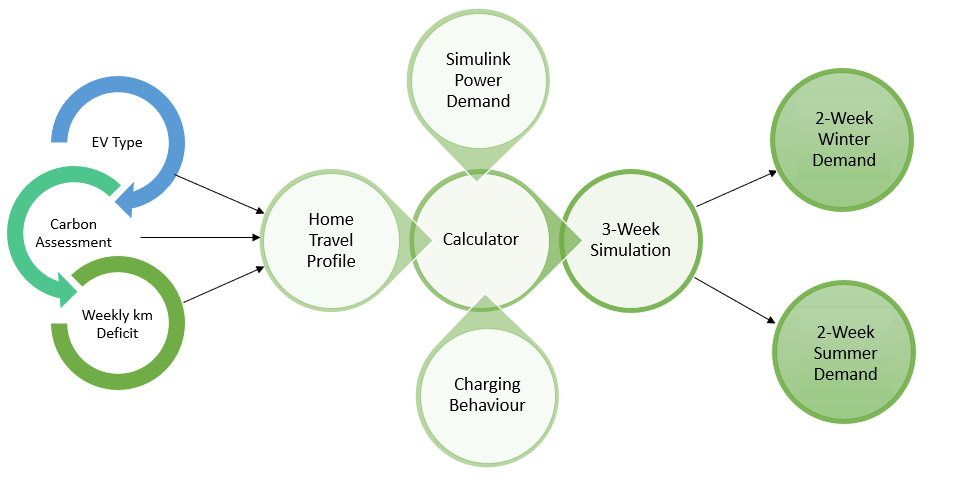 The EV type input was still required as before, and assigned in an even ratio between the resident.


​The carbon assessment was used to estimate the annual kilometre distance travelled by the Findhorn Ecovillage residents, with the calculation method detailed below.

The total distance travelled for our model was calculated, and the deficit between the report used to calculate a weekly km per person deficit. The distances were randomised ensuring the average remained this deficit.

Findhorn Ecovillage Carbon Assessment
As mentioned, the carbon assessment estimated the total annual carbon emissions produced by the Ecovillage residents for car travel among various other activities. This was used to calculate an estimated annual distance travelled by dividing by the average CO2/km for a petrol car, 220 gCO2/km. The annual distance, shown in the table below, was then used to calculate the deficit of our model by calculating how much our model would estimate this value to be. This was subtracted, then the daily/weekly km deficit per resident calculated as shown in the table below.
The model was simulated in a similar manner as before, with the 2-week results added to the results of the previous model to obtain a better prediction for the charging demands at different adoption rates from electric vehicles in Findhorn Ecovillage. The model is available for download in the
'Downloads'
section.
---
References
[1] Parkecovillagetrust.co.uk. (2015). [online] Available at: http://parkecovillagetrust.co.uk/wp-content/uploads/2017/03/cn.findhorn-ecovillage-final-carbon-footprint-report-2015-2-170115.pdf [Accessed 12 May 2018].

---