How much storage capacity is needed?

The required storage capacity is crucial for the choice of a suitable storage system. In order to provide storage capable of covering the demand at all times a year just by using wind energy from a potential wind farm, it is necessary to be aware of oversupply and undersupply. Since it fluctuates both seasonally and daily without any reliable forecasts some assumptions need to be determined to design a system.
The following graph shows monthly oversupply and undersupply of a modelled year without considering any wind turbine curtailment. This case shows a large surplus of energy over the year and covering the demand in months of lacking supply seems to be easy.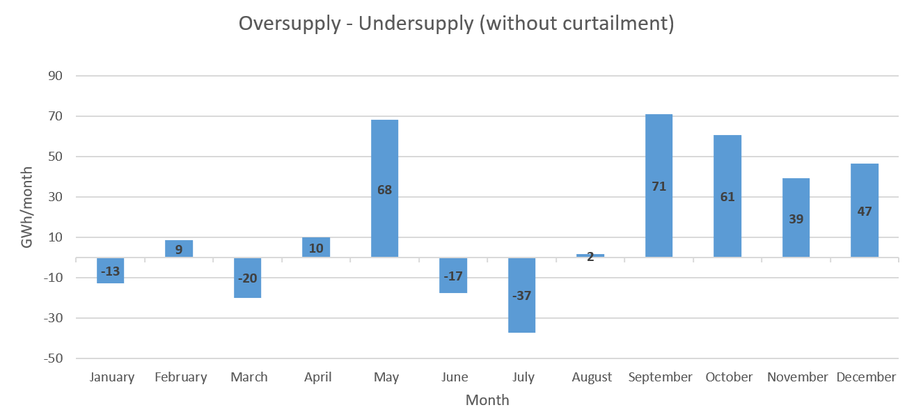 Assuming all the excess energy used for conversion into a storage system it would require 306 GWh of storage capacity. However, there are conversion losses and not all the electrical energy can be retained. The approach of ammonia storage having energy losses in the electrolysis as well as in the synthesis reaction makes a conversion efficiency of 59% under optimistic estimations. Most of the energy is lost in the polymer electrolyte membrane (PEM) electrolysis which requires 47 MWh to produce one tonne of hydrogen or in other words 9.25 MWh to produce one tonne of ammonia (18wt% percentage by weight is hydrogen) [1]. Additionally, the synthesis reaction requires around 1.3 MWh to produce a tonne of ammonia accounting for around 15% of the losses. A total amount of 181 GWh of energy can be gained as ammonia. Converting all of this energy back to electricity using the solid oxide fuel cell (SOFC) assuming an conversion efficiency of 70% with a power consumption of 3.9 MWh per tonne of ammonia. The round-trip efficiency would be 41% generating an output of 126 GWh as electrical energy.

Compared to the conversion efficiency of battery storage systems it seems to be very poor. However, the battery efficiencies do not include any self-discharge rates and are supposed to be always either charging or discharging. Furthermore, the efficiency alone is not necessarily the crucial point for the choice of a storage system. More important is how to store such amounts of energy in terms of storage size and technical feasibility. Assuming a volumetric density of 609 kg/m³ it would require a tank size of around 50,000 m³ to store 306 GWh [2]. The same amount of energy would require 1.02 million units of Redox-Flow batteries each 300 kWh and even 1.46 million units of Lithium-Ion batteries each 210 kWh. This comparison already shows that the feasibility to store such an amount of energy in batteries is very difficult.
After all the previous assumptions do not describe the case of the minimum required storage to cover the demand at any time in the year. Considering that it would only require a storage capacity of 37 GWh of ammonia if all the surplus energy goes into the storage. It would end up with a storage capacity of 103 GWh in the end of the modelled year due to large surplus.

However, that is not a realistic case because not all of the potential surplus energy is produced instead turbines are switched of at times when there is not enough demand. Assuming a rate of 20% curtailment, which is according to "variablepitch.co.uk" quite low compared to a curtailment rate of 39% for the wind farm Whitelee between September 2017 to December 2017, the required storage capacity would be significantly higher due to less surplus energy [3].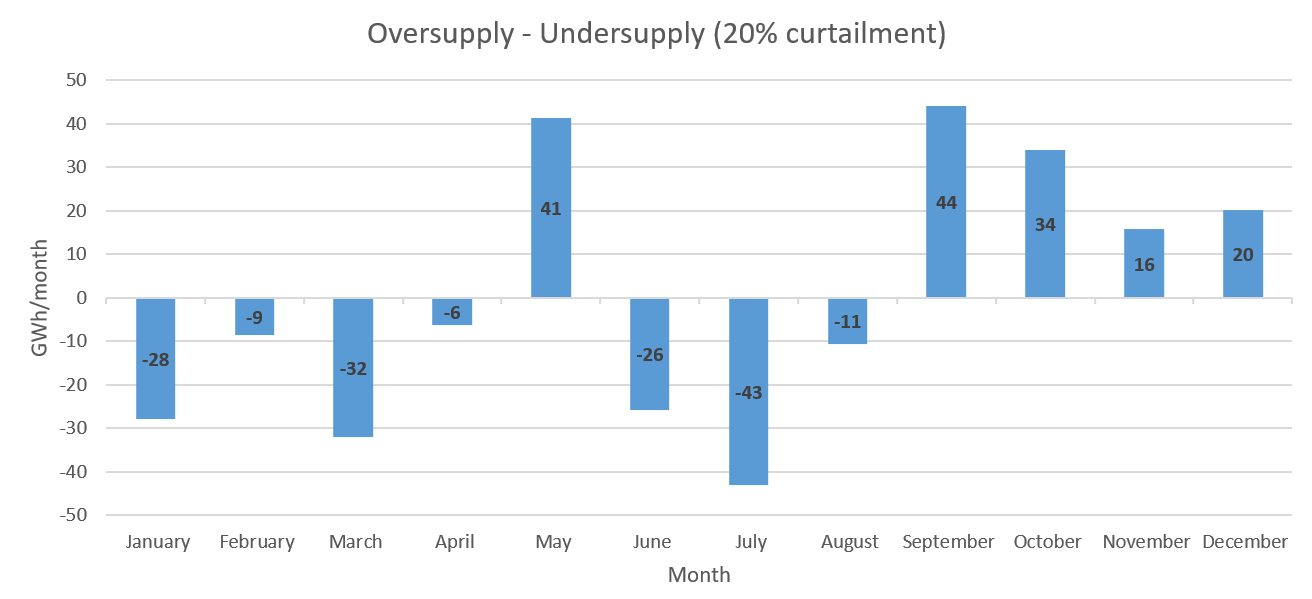 In numbers, the oversupply compared to the undersupply would be almost equal and the requirements for the storage capacity would be 130 GWh in the beginning of the year. The storage size for ammonia would be around 21,000m³ which is equivalent to a tank of 30m diameter and 30m height. This fairly reasonable size is out of competition for the ridiculous high number of battery units required. A comparison of the required storage capacities for the different systems is shown in the table below.

Concluding this section, it can be said that in terms of conversion efficiency the proposed solution using ammonia can not compete with battery storage systems due to the electrochemical reactions in electrolysis, ammonia synthesis and fuel cell. That is why we propose battery solutions for small scale storage in communities or even in single households to balance the supply and demand if off-grid power generation is desired. However, for large scale applications to balance the grid for urban areas or even countries synthetic fuels such as ammonia need to be considered and improved for a future of non-dispatchable energy resources.


[1] http://www.eng.ox.ac.uk/systemseng/publications/Ammonia-based_ESS.pdf
[2] https://www.engineeringtoolbox.com/ammonia-liquid-thermal-properties-d_1765.html
[3] https://www.variablepitch.co.uk/stations/718/
Resource image: http://www.safichemgroup.com/en/segments/manufacturing-industry-3/areas/storage-tank-facilities-10/