Conclusion

After in depth research and analysis of storage options against case studies many resulting conclusions were determined.
​Lithium Ion Batteries were most suitable for the small scale windfarm study with an optimum number of 7 batteries working in conjunction with the 2 x 950kW covering the 300 household community load.
Redox flow batteries would also be suitable for a small scale windfarm but due to the slower discharge time there are slightly less effective than the lithium Ion batteries.
Converting electricity to be used in Ammonia storage has only a 41% round trip efficiency, however ammonia does offer a large scale long term storage solution which could act similar to pumped hydro in times of demand being higher than supply.

Ultimately the conclusions found indicate that the future of large scale storage should be:

Integrated ammonia storage on a centralised grid scale in Scotland
Integrating a large scale ammonia storage tank onto the national grid would allow ammonia to be converted at times of lower energy supply to electricity to aid in balancing the grid.

​Currently the balancing mechanism helps to dictate and direct which energy generation methods should be utilised, and from this study it seems reasonable to assume a storage solution could be incorporated into the balancing equations. Meaning in periods of surplus instead of curtailment payments, electricity would instead be directed to the storage tanks for conversion to ammonia.

The principle of having the storage tank connected to the National Grid would allow not only surplus wind energy to be stored as ammonia but all excess renewable resources from any power plant in the UK.

​Utilising storage during periods of peak demand would allow a decrease in requirement for fossil fuel generation.

​To represent the benefits of applying this large scale centralised storage the energy trilemma was again applied. Figures were calculated from an assumption of 20% curtailed wind energy of Scottish windfarms being stored using ammonia which is approximately 2.84TWh of energy for conversion.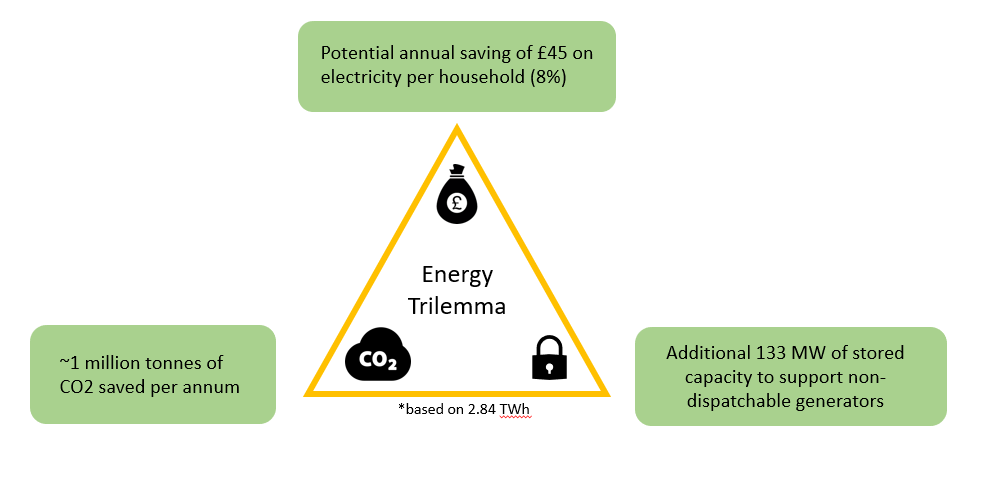 Decarbonisation
By utilising the potential stored ammonia as energy, less fossil fuel generation would be required. Using the National Energy Foundations Carbon Calculator this works out to be approximately 1 million tonnes of C02. [1] This reduction would greatly benefit the UK and Scotland's Carbon Emission goals for 2020 and 2050.
Security of Supply
With excess wind energy stored in ammonia tanks an additional 133MW of stored capacity could be available. With the capacity of the National Grid increasingly relying on non dispatchable resources it would be beneficial to have an electricity generator that was dispatchable and not directly reliant on resources such as wind and solar.

Cost of Electricity

The cost of electricity is important for all energy consumers. Electricity bills have gradually increased since 2003 with changes in energy usage tending to be decreased. [2] The demand for electricity is likely to increase as the uptake of electric vehicles and the electrification of heat becomes more substantial. Therefore implementing a storage solution which would ultimately reduce the cost of curtailment payments, purchase of gas for electricity generation and reliance of grid imports from other countries could result in electricity finally costing less for consumers.

​A figure of £45 per year saving for households in Scotland was calculated, taking into account the total number of houses in Scotland and the current (2017) costs for curtailment and electricity generation.

​This figure of £45 is representative of 8% of the average electricity bill in Scotland, which comparatively is a large percentage decrease.

[1] ​http://carbon-calculator.org.uk/
​[2] ​http://researchbriefings.files.parliament.uk/documents/SN04153/SN04153.pdf