Electricity Market Reform
Electricity Market Reform (EMR) was introduced by the UK government to respond to the Energy trilemma faced by the energy generation in the UK.
EMR aims to incentivise investment in secure, low-carbon electricity, improve the security of Great Britain's electricity supply, and improve affordability for consumers.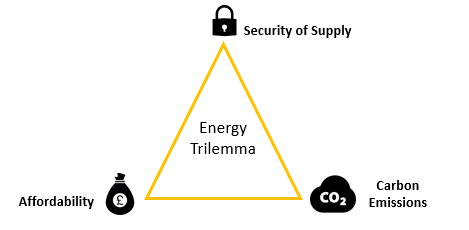 The Energy trilemma refers to the 3 equally important goals of electricity generation; decarbonisation, security of supply and affordability of producing energy. A number of key factors influence the decision of which electricity generation methods are used to supply energy to the national grid including; response time of generator, capacity of power station, carbon content of energy, cost of production and also location of supply.
Decarbonisation
It is essential to be mindful of the carbon and other greenhouse gas emissions from the energy supply generated and use of fossil fuel generation must be minimised to help achieve climate change targets.
​
Security of Supply

UK consumers expect a constant supply of electricity. Outages can be detrimental to many electricity reliant devices in the 21st century and therefore national grid must ensure power delivered to consumers is of high quality and can be expected 24 hours a day. The power grid must also be capable of dealing with short term and long term interruptions such as harmonics or faults on the line.
​
Cost

The cost of electricity must be affordable for all consumers but also generate profits for power generation companies and national grid. Therefore it is essential that low cost generation methods are used when possible and taking advantage of free generation methods such as wind, hydro and solar. However, due to the economic interests of investors and officials the most economical generation method for the everyday consumer may not be deployed.
Impacts

​The national grid has the difficult job to maintain an equal balance of the trilemma, but also to ensure the social and political impact of energy generation methods are not impacted.
There are many social impacts of energy generation and decommissioning of current power plants, public opinion differs greatly on renewable energy, nuclear power and the closure of fossil fuel generation plants.
In the UK the national grid serves Scotland, England and Wales with generation of electricity meeting demands throughout the whole UK regardless of where generated. However, the energy strategy of the Scottish Government differs substantially with the UK governments strategy. With the UK government giving the go ahead to Hinkley Point C Project, the first nuclear power station for a generation and conversely Scotland pushing the focus towards renewable generation methods.
​
Background header: https://www.whitecase.com/publications/alert/uk-electricity-market-reform-how-far-have-we-come
[1] http://www.gov.scot/Publications/2007/10/Nuclear
[2] ​https://www.gov.uk/government/news/government-confirms-hinkley-point-c-project-following-new-agreement-in-principle-with-edf