For the calculation of the force on a body (one jacket leg in our case), which is in a non-permanent flow of a real fluid, the inertia forces (Froude-Krylov and radiation forces) and the drag forces are combined
(W. Kaufmann, 1958).
This assumption was made from Morison who calculated the force per meter of a cylindrical body with the presence of harmonic waves. For a hydrodynamically thin body (D/λ <1/5) the difraction forces can be neglected and so from Morison equation we have:
Fx = CF1sin(ωt) + CFD |cos(ωt)|
CF1 = - 1/8cM ρg πD2H sinh(kd)/cosh(kd)
CFD = 1/16cD ρgDH2 2kd + sinh(2kd)/sinh(2kd)
cM: inertia coefficient

ρ: water density 1025 kg/m3

g: standard gravity 9.81m/s2

D: cylinder diameter

H: wave height

k: wave number which is calculated by the equation:


k = 2π/λ
λ
: wave length
d
: water depth
ω
: wave frequency which depends on the water depth and can be calculated with the following equations:
k = 2π/λ
| | | |
| --- | --- | --- |
| shallow | intermediate | deep |
| ω2 = k2gd | ω2 = kgtanh(kd) | ω2 = kg |





T: wave period where


T = 2π/ω
cD: resistance coefficient


For the purposes of this project we have taken into consideration South West of England Regional Development Agency, 2006 and Coastal engineering technical note, 1985:
H = 5m

D = 1,05m

D = 40m

λ = 45,52m

Cm = 3

Cd = 1,5


All the other values are calculated with the equations provided.
Using the MATLAB program the force plotted along with the time has the following form: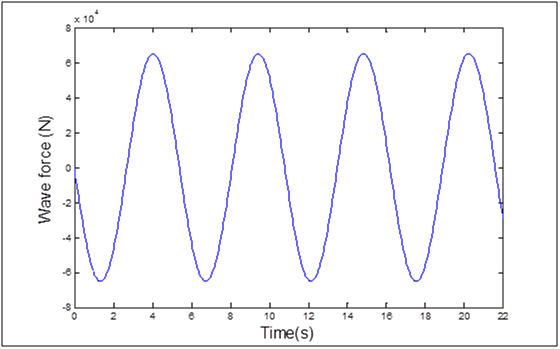 Wave force (N).




We can see that the maximum value of the wave load is Fw=65299.3 N.

By multiplying this force by 2 we will have, in approximation, the total force of the two legs at the wave front. So Fw=130598.7 N. Of course we must not forget in reality The angle of the wave may be different between these two legs, brackets will also accept significant wave forces as well as the other two legs will accept radiation forces.

Again with the aid of MATLAB program we have produced the graph of the distributed wave load along the height of the tower using the force per meter equation:


Fx(Z) / dz = -cM ρπH2/2 D/4 ω2cosh[k(z+d)]/cosh(kd) sin(ωt)
+ cD ρ/2 D H2/4 -cM pπH2/2 D Hω2/4 ω2coshω2[k(z+d)]/sinhω2(kd) cos(ωt)|cos(ωt)|
As the equation depends on time we have plotted the amplitude of the force using the transformation


Fx = Asin(ωt) + Bcos(ωt)==> Fx = Ccos(Ωt)
where
C = √A+B
The distribution curve is as illustrated below: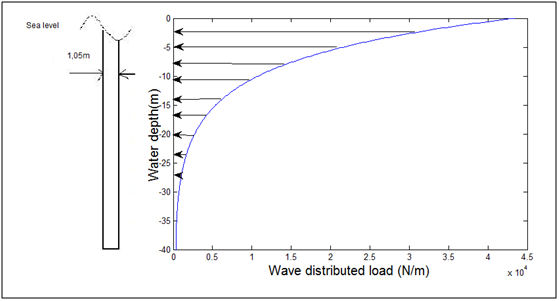 Wave distributed Load.




We can see that the maximum force is closer to the sea surface, as the amplitude of the motion decreases with depth.