Introduction

Tidal Energy

Resource

Constraints

Phasing

Economic Analysis

Conclusions

Downloads
Scotland's Tidal Resource
The waters around the UK have been acknowledged as possessing some of the most energetic tidal sitesin Europe-with Scotland alone thought to have 25% of Europe's accessible tidal resource. Studies have been done that suggest this tidal resource alone could potentially contribute up to a third of Scotland's electricity needs if fully exploited.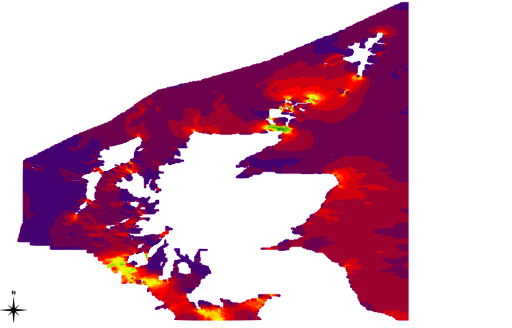 Exploitation of this resource is still in its infancy, with new research and development projects aiming to demonstrate the viability of tidal energy sources with the Pentland Firth area alone hosts 6 of the UK's 10 tidal energy sites. Other potential sites that developers see as promising include the Shetland Islands and the waters around Argyll.
The combination of high available resources for exploitation and appropriate investment in research and development will make energy production from tidal stream a real prospect.
Scotland is also home to The European Marine Energy Centre (EMEC) in Orkney. EMEC is at the forefront of the development of marine-based renewable energy technologies and is the worlds leading testing bed for wave and tidal devices.The facility offers developers and researchers the chance to connect their prototype devices to a full scale grid system and test them in some of the best wave and tidal conditions in the world .
The 17th March 2011 saw the Scottish Government give the go ahead to ScottishPower Renewables for a major tidal project off the West Coast of Scotland in the Sound of Islay. The ScottishPower Renewable (SPR) plan is to install ten tidal turbines, each capable of produicing 1MW of electricity.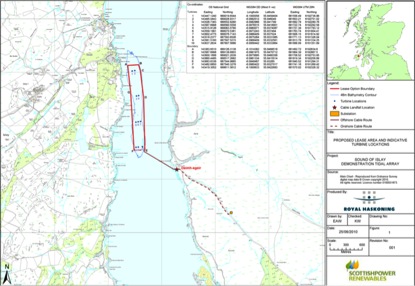 The project will use Hammersfest Strom AS HS1000 tidal turbines, a prototype tidal device that has been generating electricity off the coast of Norway for over 6 years. It is the first project of its kind in the world and the first to be approved by the Scottish Government through its Marine Scotland arm. It is hoped that this project will be the pilot project to test tidal on a large scale and the first of many tidal projects in Scotland's waters. With Scotland's current national government pledging that 100 per cent of the country's eleclricity will come from renewable sources by 2020 , it is looking like that surge for tidal power is going to happen sooner rather than later.