From those studied the only economic one to emerge having a large storage capacity is Pumped Hydro. What is the difference between Hydro and Pumped Hydro.
Hydro needs a continuous water source a large catchment area or run of river. Scottish Hydro Schemes were built with different objectives in mind. Loch Sloy was built to provide power for the Glasgow area to meet peak electricity demand.The Lochalsh scheme was designed to provide 'island communities' mainland Ross-shire and the south east of Skye with a continuous electricity supply. Similar islanding schemes were Gairloch,Fannich, Cowal, Storr Lochs, Glen Shira.
Typical Hydro Electric Scheme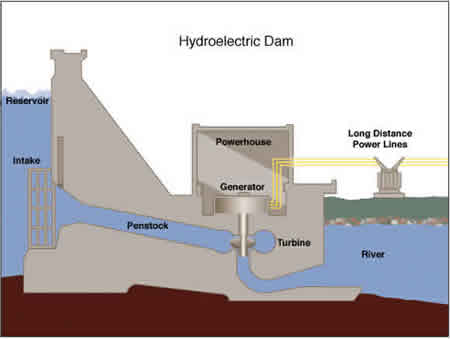 Hydro Electric pros and cons
Advantages
Ability to store renewable energy.
Energy is available within seconds.
Very long working life.
No pollution or waste.
Disadvantages
Initial construction costs are more expensive compared to thermal generation.
Permanent visual impact on the landscape.
Can have adverse affect on fisheries and wild life if not designed properly.
Is it renewable?
Yes rainfall replenishes the reservoirs.
Pumped Hydro
requires a upper and a lower storage reservoir with an initial water charge, thereafter it only requires topping up. When there is a sudden power demand. Water is released from the upper reservoir passed through the turbines to generate electricity, which commands a premium price At night when there is an abundance of cheap electricity the turbines are reversed and become pumps. Pumping the water from the lower to higher reservoir in readiness for the next peak in demand.
Advantages
The ability to store large quantities of renewable energy.
Energy is available within seconds.
Very long working life.
No pollution or waste.
Disadvantage
Initial construction costs are more expensive compared to thermal generation.
Permanent visual impact on the landscape.
Can have adverse affect on fisheries and wild life if not designed properly.
Efficiency of energy expended to that recoverable is in the order of 70-82%.
Is it renewable?
No it is simply a large scale energy storage system.
Dinorwig Pumped Storage Scheme
This pumped storage system is the largest in the UK with an output of 1890Mw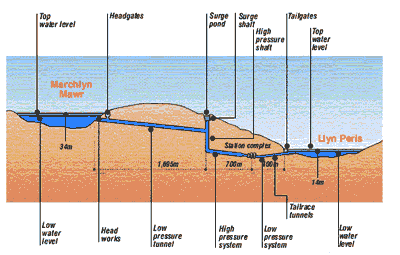 Potential Pumped Storage sites in Scotland
Initially sites for new build were investigated. It became apparent that any new build on the scale required would meet strong planning and environmental opposition. Research showed that Foyers Pumped Storage Scheme started life as pure Hydro Electric Generation Station. Built by Alcan in 1896 to produce electricity for their aluminium smelter. The smelter closed in 1968. The Hydro scheme was purchased by Scottish Power who re-designed it. The original Hydro Scheme consisted of six 500Kw turbines see photograph below of the original 1896 turbine now preserved at the pumped storage scheme. The original power station was retained and re-furbished with a one single 5Mw Turbine running as a pure hydro-electric generating station, it runs on average 10.6 hours per day.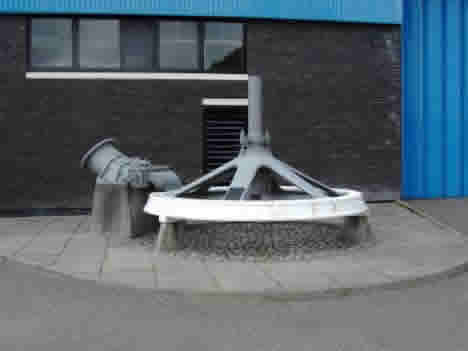 Foyers water turbine circa 1896 700HP approx 500Kw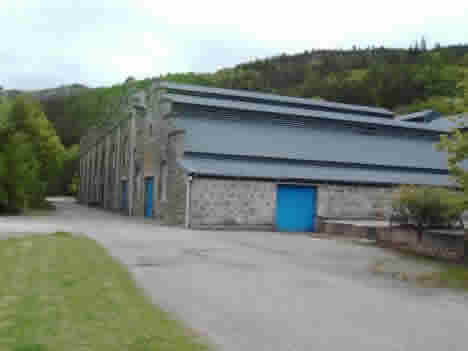 Foyers original aluminium smelter building which contained the six turbines one of which is shown above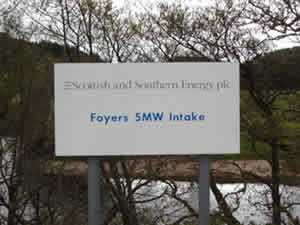 Foyer Hydro intake on the river Foyers
The construction of Foyers Pumped Storage Scheme entailed building a new Power Station adjacent to the existing Hydro Station. Four Kilometres of tunnelling 5 metres in diameter required to be driven through porous rock. The tunnels then had to be steel lined. Together with new turbines and generators, transmission lines were upgraded in order to handle the additional power. As a pumped storage system it generates 300Mw from two 150Mw machines. During the day the machines are kept on spinning reserve ready to meet periods of peak demand, the response time is in the order of 15 seconds. Spinning reserve requires the machines to rotate in synchronisation with the National Grid frequency. Power to keep the machines in this state of readiness, is drawn from the 5Mw adjacent hydro station.
The cost of the power absorbed in maintaining spinning reserve is paid for by the utility requiring peak load electricity, this spinning reserve power is charged at a premium rate above normal grid prices. Peak load electricity can command prices in the thousands of pounds per Mw/hr all be it for short bursts of power at any given time. On average a pumped storage scheme may well have in excess of ten thousand stop -starts in a year.
Pumped storage is an extremely flexible method of storing large quantities of potential energy and highly profitable. All four United Kingdom pumped storage schemes are owned directly or in directly by electricity supply companies, and make substantial net income from the peak energy market. The investment in Foyers described above suggests that it may be both feasible and profitable to upgrade and refurbish other existing hydro schemes.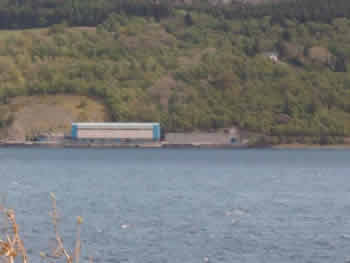 Foyers Pumped Hydro Station
Llyn Stwlan Dam (similar to Loch Sloy Dam)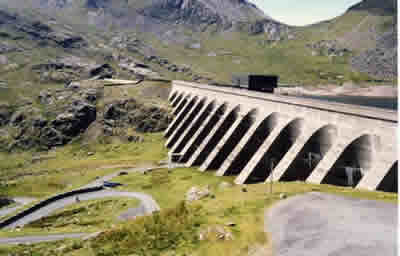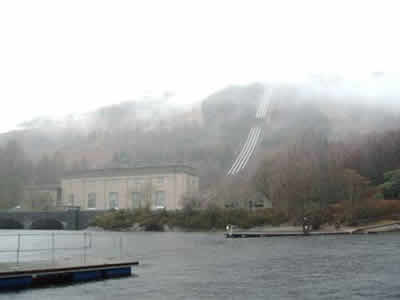 Loch Sloy Power Station
As previous stated Loch Sloy Hydro Scheme was built in 1948 as a peak demand station for the Glasgow area. Being close to a major city and the grid it was decided to investigate the potential for conversion to Pumped Storage. The reason being that the top reservoir Loch Sloy exists, therefore no civil engineering costs would be incurred in new dam construction. Pumped storage requires that the turbine/pumps are below the minimum water level in the lower reservoir, in this case Loch Lomond. A new power station and tunnels would require to be excavated inside Ben Vorlich. Research in the North of Scotland Hydro-Electric annual reports uncovered the original design criteria shown below.
Output initially 120Mw
Output now 190Mw
Annual output 130Gw hours
Top dam storage capacity 15.5% of gross annual output.
Annual output x percentage storage capacity/365 = daily storage capacity
Answer 20.4 GWh pumped storage capacity
click here to see map of loch Sloy
In this part of the presentation we have only looked at Loch Sloy since it is the nearest to the Grid and the consumer other schemes investigated.
| | | | |
| --- | --- | --- | --- |
| | aunnual output (GWh) | storage capacity (%) | pumped storage potential (GWh) |
| Errochty | 103 | 15.5 | 16 |
| Glasgarnock | 103 | 23 | 23 |
| Luichart | 124 | 30.7 | 38 |
| Clunie | 143 | 27.5 | 40 |
| Fannich | 83 | 83.3 | 70 |
| Rannoch | 111 | 37 | 41 |
| Fasnakyle | 250 | 31.5 | 78 |
| Tummel. | 92 | 41 | 38 |
| Ben Lawers | 71 | 17 | 12 |
| Nantes | 89 | 54 | 48 |
| Invermoriston | 75 | 30 | 22 |
| Invergarry | 102.5 | 40 | 41 |
| Quoich | 68 | 40 | 27 |
| Sloy | 130 | 15.5 | 20 |
| Total | 1544.5 | | 514 |