Glasgow Facts and Figures
Population and Area
Glasgow city has a population of around 612,000 and many others come into Glasgow from surrounding districts to work. Glasgow also attracts a large number of visitors for leisure, retail and commercial purposes and is a thriving conference and tourist centre. We have chosen to focus in on a 4km2 area around Glasgow city centre.
There is a heavy amount of traffic flooding this area every day despite the fact that car ownership in Glasgow is only a mere 8% of Scotland's total. That is only 160,000 cars from the 2.1million on Scotland's roads. AS a result Glasgow's air quality is suffering due to the high levels of pollution from these vehicles. In January 2002, Glasgow City declared itself an Air Quality Management Area. This meant that Government set Objectives for safe pollution levels had been exceeded. To date, no action has been taken to rectify this situation and the air pollution levels remain high.
Vehicles and Emissions
These vehicles emit many harmful pollutants including Nitrogen Dioxide, Particles, Carbon Monoxide, Volatile Organic Compounds, Lead and Heavy Metals and produces Ozone as a secondary pollutant. Nitrogen Dioxide and Particles are the two pollutants of greatest concern within the city, and indeed throughout the UK, as they are at the most risk of breaking Government Objective limits to be achieved by the end of next year.
Road Safety
Safety is an issue for any mode of transport, arguably more so for road transport than any other mode as this is the way that we are most commonly reliant upon and exposed to in our everyday lives. There are currently about 17,000 accidents on Scotland's road each year claiming 300 lives and costing the economy £1.3bn.
The chart below shows that Glasgow's road safety is comparable with the rest of the UK in terms of population.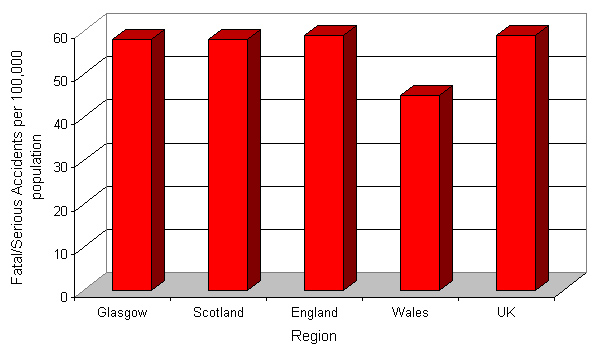 The chart below shows that Glasgow's road safety is significantly worse compared to the rest of the UK in terms of distance travelled per accident.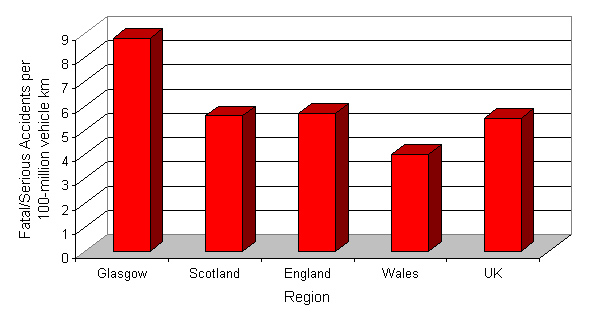 Road Casualties
In 2002, 92 people lost their lives on the roads of Strathclyde, 1,273 victims were left seriously injured and there were 6,819 slight injury crashes.
Cameras Cut Crashes
In November 2002, Strathclyde Police and all 12 local authorities, in the former Strathclyde Regional Council area, signed up to a road safety initiative, namely Strathclyde Safety Camera Partnership.
After just two years Glasgow began to see a noticable decrease in the number of road accidents. Where cameras are operating the average travelling speed fell by 8% and across the city of Glasgow as a whole, taking into account all roads, fatal and serious casualties showed a fall of 14%. This proved that encouraging drivers to lower their travelling speed decreased the number road accidents and casualties.
There are more than 50 Safety Camera sites within Glasgow city and their locations may be viewed on the Cameras Cut Crashes Web page.
Governmnet Objectives
This Partnership has the full support of the Government which has set clear targets for accident reduction by 2010.
These targets require:
a 40% reduction in fatal and serious casualties
a 50% reduction in fatal and serious child casualties
a 10% reduction in 'slight' casualties
Additional Information
For more information about our research on Glasgow please click here.
Top
© 2004 All rights reserved. Copyright of Derek Weir, Leanne McMillan, Roy MacLean, Hee Dong Oh & Ayman Elsadig