Biodiesel

What is Biodiesel?
Biodiesel is an alternative fuel which can be used in diesel engines with little or no modifications. It is a mixture of several alkyl esters produced from vegetable oils, most widely through a process called transesterification.
How is it produced?
There are three basic technological routes to biodiesel production from oils and fats:
Base catalyzed transesterification of the oil with alcohol.

Direct acid catalyzed esterification of the oil with methanol.

Conversion of the oil to fatty acids, and then to Alkyl esters with acid catalysis.
The process that is most widely used is the transesterification. In this process, vegetable oils and a short chain alcohol (methanol or ethanol mainly) in the presence of a catalyser (usually NaOH or KOH) are turned into alkyl esters and glycerine. This is not only the most economical route, but also:
It has a high rate of reaction conversion (98%) with low reaction time and minimum side reactions.

Presents direct conversion to alkyl ester without any intermediate steps.

The reaction is carried out under low temperature (about 65°C) and low pressure (about 1.4 bar).

There is no need to use advanced or special materials of construction.
The chemical reaction can be represented as following:


In general terms, 100 kg of vegetable oil reacting with 10 kg of alcohol yield 100 kg of biodiesel and 10 kg of Glycerine.
Resources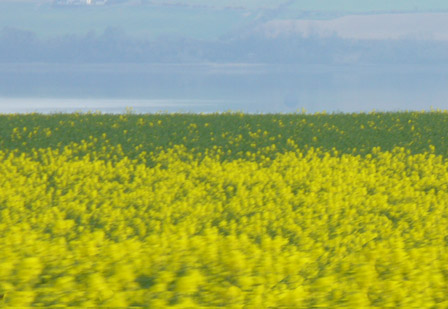 Many types of natural oils can be used to produce biodiesel:
Virgin oil feedstock, mainly rapeseed and soybean, but also sunflower, canola, castor bean, jatropha and many other crops.

Waste vegetable oil, both from food industry and home cooking.

Animal fats and fish oil.

Other alternative sources under development as sewage (from algae) and thermal depolymerisation.
The yield and energy balance of biodiesel production depend highly on the productivity and the yield of oil of the crop.

Tropical countries present more productivity per hectare in general. The yield of oil varies with the kind of culture. The following table presents some figures for the main crops used to produce biodiesel.

| | |
| --- | --- |
| Castor Seed | 46.00 |
| Coconut | 57.00 |
| Cotton Seed | 15.00 |
| Groundnut Kernel | 41.50 |
| Mustard | 35.00 |
| Canola | 42.00 |
| Corn | 6.50 |
| Palm oil | 36.00 |
| Palm Fruit | 20.00 |
| Rapeseed | 37.00 |
| Sesame | 50.00 |
| Soybean | 18.50 |
| Jatropha | 15.00 |
| Sunflower | 48.00 |
Classification
Biodiesel is the pure biodiesel fuel. It is referred to as B100 or "neat" biodiesel.
A biodiesel blend is pure biodiesel blended with petrodiesel. Biodiesel blends are referred to as BXX. The XX indicates the amount of biodiesel in the blend (i.e., a B20 blend is 20 percent by volume biodiesel and 80 percent by volume petrodiesel).
Properties
| | |
| --- | --- |
| Molecular Weight | 292.2 * |
| Density | 0.88 kg/l |
| Net Heating Value | 37.5 MJ/kg |
*Based on the average molecular weight of soybean methyl esters [16]