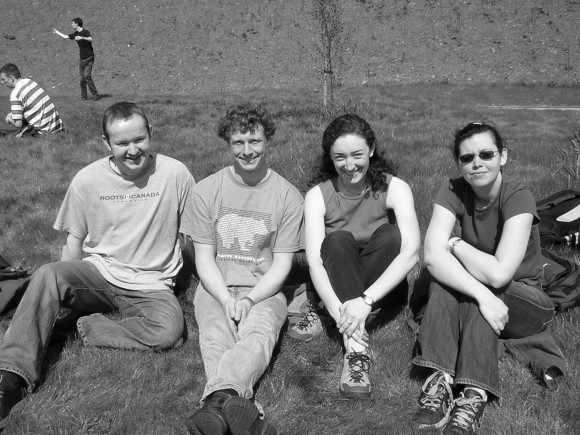 From left to right: Matthew, Andrew, Mo, and Jean
Contacts:
mattgeraghty@hotmail.com
ajroscoe@iee.org
mcloonan1@ireland.com
jean.currie@uku.co.uk
Team members:
Matthew
Matthew went onto to work for an oil company in Canada after graduating as a chemical engineer. Upon his return he decided to go back to university. He hopes to utilise both degrees to find work in a multi-disciplinary consultancy. Matthew is an avid snowboarder and hopes to work abroad again at some stage, preferably where there is some good snow.
Andrew
Andrew graduated in Electrical & Information Sciences and has since worked in the telecommunications industry within a technical role both in the U.K. and in the United States. Andrew enjoys all outdoor pursuits; he is an accomplished mountain climber and can be spotted sledging in winter. He hopes to rejoin industry and work for a technical consultancy working with renewable systems. Andrew kept the sugar levels of the group topped up during the project.
Mo
Maureen graduated as an environmental biologist and has since worked as a technical sales manager for the installation of large wind turbines in Ireland. Maureen enjoys all outdoor pursuits and is a keen mountain climber and mountain biker. She hopes to rejoin industry this year in a technical role in renewable energy systems.
Jean
Jean graduated as an electrical power engineer and has since worked mainly with electrical protection and switchgear. Jean enjoys most outdoor pursuits and particularly enjoys running and skiing. She hopes to rejoin industry this year combining her industrial experience with the renewable energy knowledge gained on the course.