introduction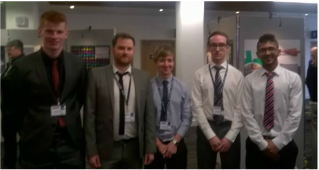 This website is the concise presentation of a scoping study conducted at The University of Strathclyde from 25th January 2015 - 11th May 2015 by a student group participating in the MSc Sustainable Engineering: Renewable Energy Systems and the Environment postgraduate course. This unique group project formed a significant proportion of the requisite work for a successful degree award. The various public presentations, professional conversations and required understanding of independent study and cognitive intricacies of group work
,
provided invaluable experience to all those involved and a supportive platform from which to develop generically desired employability skills, while of course furthering knowledge of a relevant technical topic.
The initial scope of this project relayed by an EU Energy Efficient Communities Project called ORIGIN was to consider means of improving the overall performance of the energy network in the context of various scenarios for expansion and to integrate additional technologies in the future, where decisions are made based on the premise of minimizing reliance on fossil fuel based energy. After consultation with academic supervisors and relevant technical contacts, our independently defined scope was concentrated into an investigation of integrated biomass-solar thermal district heating schemes with particular
f
ocus on they may be controlled for optimal performance.
The primary outcome of this project is a detailed methodology outline on how to correctly size and integrate biomass-solar thermal district heating scheme w
ith an associated feasibility analysis of their current state,
as supplemented by independently developed tools which may be used with general applicability by the broader energy community. The requisite work offers scope
for continuation into associated individual thesis work due for completion in September 2015, where this broad scoping study may be refined into more detailed levels of interest and innovative thought added to a currently
comparatively immature field of research.
---
acknowledgements
This website and the requisite work could not have been achieved without the persistently enthusiastic engagement of staff within the Energy Systems Research Unit (ESRU) at The University of Strathclyde, and external technical contacts assisting in specific case study analysis of a real life system. It is therefore appropriate to acknowledge them from the outset in merited detail.

We would like to express particular gratitude to Dr Paul Tuohy (The University of Strathclyde) who provided invaluable expertise and direction consistently and throughout in his role as primary academic supervisor to this student project, Dr Paul Strachan (The University of Strathclyde) for his general organisation of the project curriculum and open feedback on project progression, and finally Michael Shaw (Findhorn Foundation) and Paddy Atkinson (ORIGIN Project) for all their assistance in gathering data and enhancing an understanding of general operations within our specific case study.